16-12-23 @ 09:00 AM
to
24-12-23 @ 05:00 PM
About Spend a special day out with your family an
09-12-23 @ 10:00 AM
to
10-12-23 @ 04:00 PM
Get festive and creative at our Christmas Wreath M
About Christmas Fairytale Festival
Dates: December 16th, 17th, 23rd and 24th
1. The Grinch is up to no good! 
He steals Santa's presents and gives onions to the children instead! Find the Grinch in the tower and tell him how much Christmas means to you! Will you be the one that will make him have a change of heart?
Write a letter to Santa with your heart's desires!
3. Games with Santa's Elves
Take part in themed games with Santa's Elves
Mrs Claus will take you on a snug journey with her Christmas Tales
Christmas Wreaths Workshop
Dates: 9 & 10 December 2023
Making your christmas decorations yourself is more fun with friends!
Bring a friend with you and make your christmas decorations with fresh cut herbs, branches and other beautiful decorations that we provide. You can make a gorgeous center piece for your dinner table, that will show off your creative talents and will give off a christmassy fragrance! You can also make decorative candles and a christmas wreath for your front door. 
Get crafting and enjoy a complimentary warm cup of herbal tea. We have delicious cakes and coffee too! Remember to bring a warm coat or jacket with you, as this workshop is outdoors.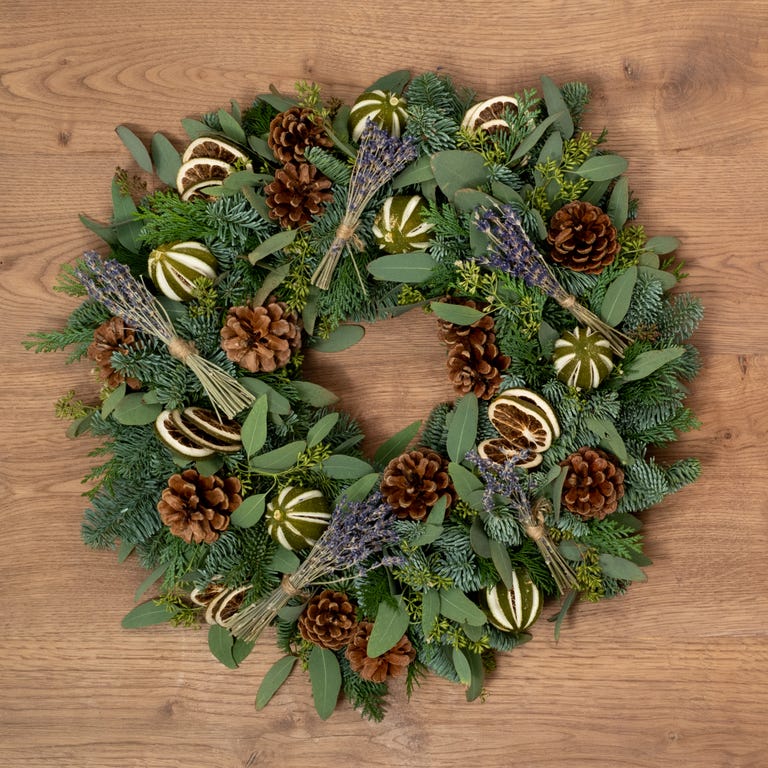 We forage fresh plant material from our woodland and herb gardens. Because they are fresh, they are easy to bend, so you can place them exactly the way you want to on your decoration piece. They are also extremely fragrant, which will for sure give a gorgeous smell to your dining room or living room!
With lots of gorgeous shades of green and earthy colours you have your own creative freedom to create your own unique decoration piece to wow your family and guests. 
You can use sparkly lint, ribbons and shiny baubles, or you can go more minimalist and use the beauty of nature to put together a gorgeous colour scheme that suits your artistic taste.
Price: €45
Should you bring anything with you?
If you already have some decorations in mind that you would like to incorporate to your christmas decorations, bring them with you!
This is an outdoor workshop, so make sure you are wrapped up warm! When you finish the workshop, you take your decorations with you. If you would like to go for a walk in park, remember to bring  an umbrella with you and a waterproof coat, as the chances of rain fall are high during this time of year.
Epiphany Holiday Weekend 2024
The Grinch is back and he's taken all the lucky pennies for the New Year! Can you find him and get your lucky penny off him? Also, storytelling with the Winter Fairy Snegurochka every hour, the Maze challenge: how many Elves can you find hidden in the maze, festive games, mulled wine and hearty meals in the Botanicus Bistro. A wonderful day out in nature for all the family!
* Tickets are coming soon!
Thank you for attending the Christmas Weekends during December of 2022
Meet Father Christmas and take part in various activities in all areas of the park during all the days leading up to Christmas!
Spend a special day out with your family and friends in nature! Go on a walk with your kids in the maze and the forest, and meet the WHO'S, the Grinch, Santa & Mrs Claus. The Grinch is hiding in the tower of the maze and isn't feeling the Christmas spirit at all. Can you help him? Before you go to the maze, you can write a message to give to the Grinch at the tower of the maze. Upon reading it, you might inspire him enough to have a change of heart and feel the Christmas spirit again! After the maze, go for a walk in the forest, where you will head to Santa's grotto. There, you will meet Mrs Claus, who will read you her favourite Christmas tales. After, you can write a letter with your most desired wishes for Santa, to be sent to the North Pole. While you walk in the forest, find Santa's hiding elves and take part in different games. 
You can also:
Take part in outdoor games & craft workshops indoors & outdoors

Delicious winter warming food & mulled wine in the Botanicus Bistro

Find Christmas gifts for your friends & family at the Lavender Boutique Shop or Botanicals Shop